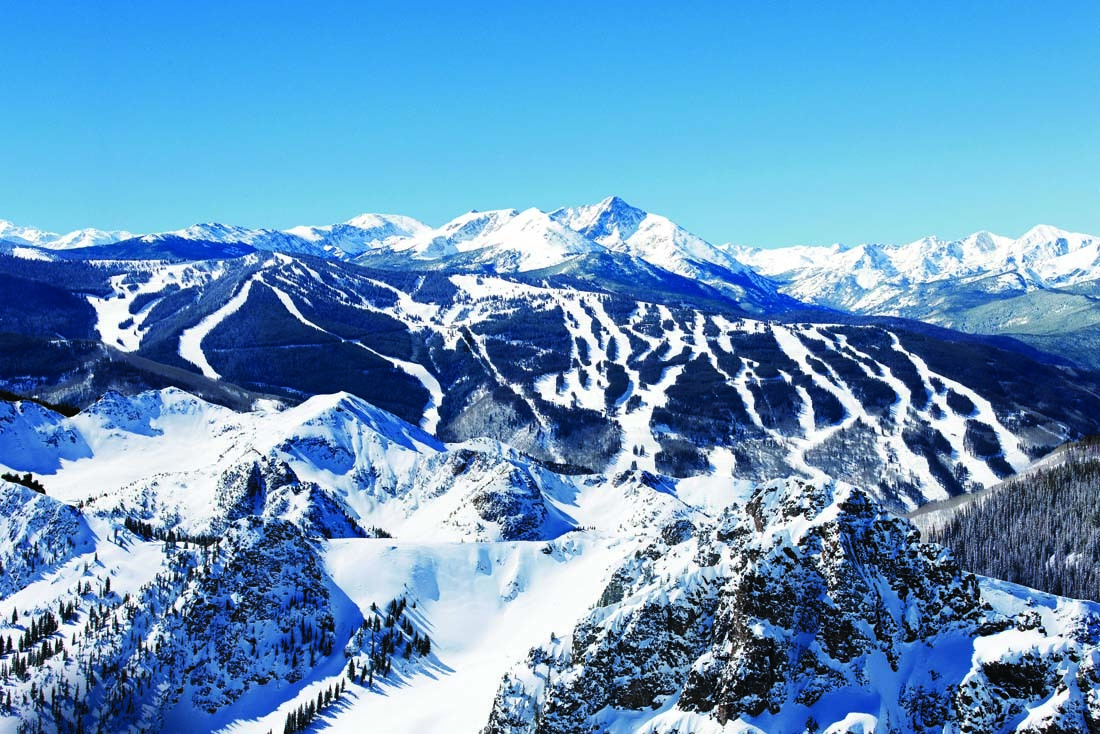 Best of Kin
Best of Vail and Beaver Creek
Only 10 miles apart, Vail and Beaver Creek are worlds away, but equally awesome.
Since its founding in 1962, Vail has earned a reputation as a, if not the, must-ski Colorado resort. Appealing to hard-core powder hounds with 5,317 acres of terrain, the Vail experience famously finds its apotheosis in the Back Bowls, massive basins brimming with pillowy snow that befit a corporate trademark, "Like Nothing On Earth"—a twist on a former but no less braggadocious tagline, "Vail: There Is No Comparison."
But actually, there is. Just 10 miles to the west, there's also Beaver Creek, less than half Vail's size (just over 2,000 acres of skiable terrain) and decades younger (opened in 1981). This family-friendly skier's Disneyland, known for its gently sloping but impeccably groomed corduroy and a devotion to the cushier side of snow sliding, recently updated its longtime motto of saucy understatement ("Not Exactly Roughing It") with a more refined hashtag to be tweeted with all those selfies: "Experience the Extraordinary."
For the pandemic revenge traveler seeking to make up for lost mountain time, we've compiled a frontside skier's guide for both mountains that parses similar bucket-list experiences to be had at each. From quintessential runs to overnight chalet stays to close encounters that warm the heart, we invite you to compare these sibling rival resorts and devise your ultimate ski experience. Which mountain to choose? Spoiler alert: the correct answer is both.
Vail Mountain Vitals
Birth Date (opening season): 1962–63
Height (summit elevation/feet above sea level): 11,570
Weight (percentage of runs rated "expert or advanced"): 53
Vertical Drop (in feet): 3,450
Skiable Acres: 5,317
Lifts: 31
Named Runs: 195
Longest Run (in miles): Riva Ridge, 4
Average Annual Snowfall (in inches): 354

---

Beaver Creek Vitals
Birth Date (opening season): 1980–81
Height (summit elevation/feet above sea level): 11,440
Weight (percentage of runs rated "expert or advanced"): 39
Vertical Drop (in feet): 3,340
Skiable Acres (including McCoy Park expansion): 2,082
Lifts: 24
Named Runs: 167
Longest Run (in miles): Centennial, 2.75
Average Annual Snowfall (in inches): 325